Selling your home takes preparation, organization, and professional marketing. The following steps will help you.
Motivation
Determine why and when you would like to sell. The reasons behind your decision to sell affect everything from setting the price to deciding how much time and money to invest in getting your home ready for sale. What is more important to you, the amount you walk away with, or the length of time your property is on the market? Different goals will dictate different strategies to marketing your home.
Finding a Realtor®
When looking for your ideal Realtor, don't be afraid to ask questions. It is crucial that you and your Realtor communicate effectively so you may interview the candidates before making your decision. A good Realtor will know the market well, be familiar with past sales and current listings in your area and most importantly, represent you and your home to its full potential.
Setting a Price
Setting the price to list your home can be tricky. The list price you determine will let prospective buyers know the maximum they would have to pay for your home. If your list price and home do not compare favourably to similar homes, potential buyers and agents may not take your listing seriously. As your Realtor, I will provide you with up to date information on the current economic market along with a Current Market Analysis (CMA) of homes recently sold in your area, active listings and expired listings to assist in determining a price.
Prepare Your Home For Maximum Potential
Time for a mini makeover for your home! Appearance is critical. The look and feel of your home generate a greater emotional response from potential buyers than any other factor. Clean like you've never cleaned before, get rid of clutter, repair as much as you can, and perhaps add some extra touches with paint or new door handles. Curb appeal is also very important. Prospective buyers interested in a specific area regularly drive through the neighbourhood. Once the "For Sale" sign goes up, you immediately attract attention from those looking to buy as well as your neighbours. Tidy up the exterior of your home, keep up with landscaping, ensure all the lightbulbs work, and even update the paint on your front door to make your home stand out. Present your home to get a "WOW" response from prospective buyers.
Marketing Your Home
Let me do all the work! With the use of a professional photographer, I will market your home using combinations of traditional media, MLS, my own website, in-person networking and social media. Hosting an open house for other agents and the public is also beneficial.
Offers
When the offers start coming in, I will present every single one and walk you through the contract, discussing every detail. Using my negotiation skills, I will guide you through the preparation of a counter offer that best suits your needs. For your part as a seller, make sure you disclose everything including all known defects to the buyer in writing. I will help you ensure that all terms, costs, and responsibilities are clearly stated in the contract. Successful negotiation is an art form and during this highly emotional time, I am here to guide you through with success.
Acceptance
You have accepted an offer! Contact your lawyer or notary and let them know that you have an accepted offer and inform them of the subject removal date, completion and possession dates. Immediately begin satisfying subjects and conditions that you are responsible for. Make sure everything in your home is in working order so that there are no surprises when the home inspector does the inspection.
Completion
Once subjects are removed, your "SOLD" sign can go up. Congratulations! Arrange for movers, cancellation or transfer of utilities, services, and insurance. Ensure the condition of your home remains in clean working order.
To better illustrate the selling process, please see the flowchart below: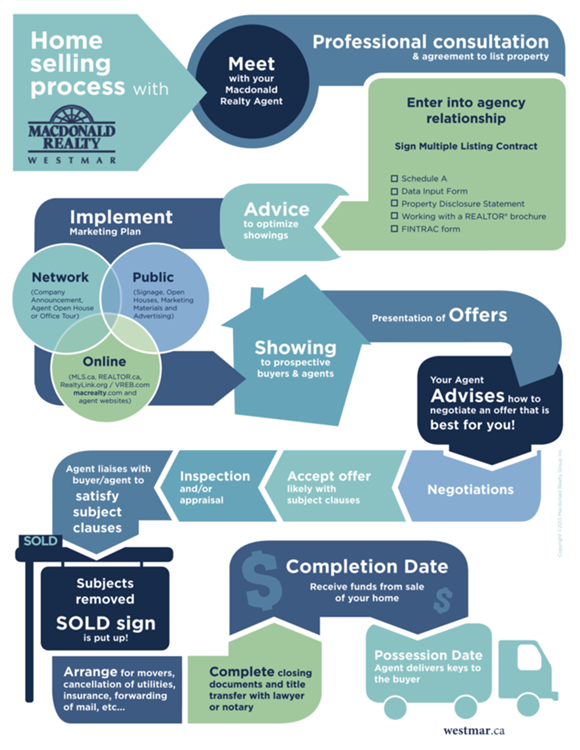 By appointing me as your Realtor, I will guide you through every milestone, from analyzing your needs to closing the sale.
Please tell me about the property you're looking to sell, using the form below or by
contacting me
directly. Let's get started!